Long Island Medical Spa
Laser Hair Removal, Skin Tightening and Microdermabrasion in Nassau County
Dr. Cohen has a full state of the art Medical Spa offering the latest technology in Non Surgical and Non Invasive procedures and treatments to keep you looking youthful and fresh. His estheticians are highly trained and certified. Dr. Cohen also has his own scientifically developed medical grade skin care line to augment your treatments. Regular use of a regimen designed for your skin type will help you maintain your youthful look. Men as well as Women benefit greatly with these non surgical procedures.
Dr. Cohen has recently added The Sciton JOULE™ – Forver Young BBL™ which provides the widest array of aesthetic  procedures available from a single, scalable system, because it is the world's first OptiPlex™ platform to accommodate three distinct delivery modes: arm, fiber, and broadband light.
Additionally you can now benefit from COOLSCULPTING™ which is the only nonsurgical fat reduction method that has been approved by the FDA. It has been shown to remove the fatty deposits in troublesome areas that resist all efforts to do so through diet and exercise.
You and Dr. Brian Cohen will be able to discuss your concerns to maintaining that youthful look due to those inevitable signs of aging: wrinkles, sagging, and sun damage of the face, neck, hands and body. Turn back the aging clock with Dr. Cohen's  latest technology, The Sciton JOULE™ and COOLSCULPTING™.
Medical Skin Care Line of Brian D. Cohen, M.D.
These products are a scientifically developed medical grade skin care line. A regimen specifically targeted to your skin needs will be recommended during your visit to Dr. Cohen's Medical Spa.
Following a daily skin care regimen customized for your individual skin type can be highly effective in maintaining a healthy, youthful appearance and reducing the risk of certain conditions, as well as the signs of aging. We offer a wide range of our very own medical skin care line to help you achieve clear, beautiful skin on a daily basis. These products are fragrance free, hypoallergenic, paraben free and organic. Dr. Brian D. Cohen is experienced in providing customized skin care regimens that can truly help each patient achieve and maintain a smooth and youthful-looking appearance.
Daily skin care should involve a multi-step process to thoroughly cleanse the skin and keep it looking its best. This may include many different products, including cleansers, exfoliating creams, toners, moisturizers, night creams, sun screens and more, depending on each person's individual skin type and personal goals.
IPL PHOTOFACIAL – Forever Young bbl™
Photofacial is a non-abrasive and non-invasive rejuvenation of your skin using the remarkable technology of Intense Pulsed Light (IPL) and now the latest BroadBand Light of the Sciton JOULE™. Forver Young BBL™ can improve the signs of sun damage, rosacea and brown spots on the face, hands and body. It also can be used to reduce the appearance of mild acne scars, dark circles around the eyes and fine lines around the eyes and mouth.
The Joule hand piece is gently pressed to the skin and painless broadband light is emitted. Usually 4-6 treatment sessions will provide you with beautiful results.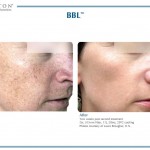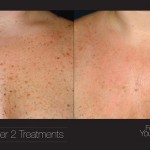 Before & After photos: 2 weeks post 2nd treatment of the face to the left and 12 days after 2 décolletage treatments shown to the right.- CLICK TO ENLARGE – There is no recuperation time –  you can return to work or resume your normal activities on the same day. You will notice a gradual, natural-looking improvement in your skin with time. BBL is a safe solution tailor-made to your skin type and condition.
LASER SKIN TIGHTENING – Sciton's Skin Tyte™
Laser skin tightening is a safe, noninvasive procedure that reduces the appearance of wrinkles and other signs of aging while tightening and lifting the skin for an overall younger and fuller appearance. This treatment can be used to treat all areas of the face and body, and is most commonly performed on the cheeks and neck. These treatments stimulate the production of collagen and elastin beneath the skin of the face to produce a firmer, more youthful appearance.
Many patients, both Women and Men, choose laser skin tightening for its slimming, firming effects that can be achieved using much less invasive means than procedures such as facelifts or neck lifts. Some patients seeking body tightening may choose to undergo laser skin tightening as an alternative to more invasive procedures such as liposuction or tummy tuck, as laser treatment offers noticeable results with significantly less pain and recovery time.
Nearly any patient seeking fuller, tighter skin can benefit from laser skin tightening as a safe, noninvasive and effective procedure. The laser skin tightening procedure can be fully customized to help each patient receive the best possible results, depending on the skin condition, size and location of the targeted area and the strength of the laser exposure.
LASER HAIR REMOVAL
Forget shaving, waxing, tweezing and electrolysis – laser technology provides long-lasting hair removal on any area of the body using high-energy pulses of light to remove unwanted hair from the face, back, legs, bikini line and other areas without damaging nearby tissue.
First, a cold gel is applied to the skin. Then the handpiece is moved back and forth across the selected area. Hair beneath the skin surface absorbs the light and heats up, loosening from the follicles and eventually falling out. Patients can return to work and all regular activities immediately after the procedure. The results are immediate and long-lasting, with some permanent thinning. Several treatments may be desired for optimal results.
FACIALS
As we age, the rate at which our skin sheds and replenishes itself slows down. This leaves a layer of dead cells on the surface of the skin, contributing to an aged appearance. Facials help exfoliate the damaged layer to reveal the younger, healthier skin beneath. Some of the ingredients used can be natural fruits and plant extracts, essential oils, vitamins, collagen and elastin. Facials reduce the signs of aging and can also improve skin conditions such as acne, dry or oily skin, and uneven texture or pigmentation. Facials are tailored to each patient for optimal results.
HydraFacial™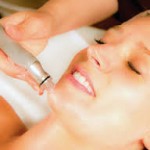 The HydraFacial™ is the only hydradermabrasion procedure that combines cleansing, exfoliation, extraction, hydration and antioxidant protection, simultaneously resulting in clearer more beautiful skin with no downtime. This treatment is great for improving the appearance of fine lines, wrinkles, congested pores, oily and acne prone skin, hyper pigmentation and brown spots.
HydraFacial™ Quick Facts:
The HydraFacial™ is a comprehensive procedure for Women, Men and Teens with all skin types – it targets:
Fine lines and wrinkles
Oily or congested skin
Sun Damage
Uneven skin tone
Dry or dehydrated skin
Rosacea
Blemishes
Instant results will leave you looking radiant and refined – There is no downtime, so it is perfect right before a big night out or special occasion.
Arielle Sedrane of Spa Week Media Group visited Dr. Brian D. Cohen's Medical Spa and tried out his popular HydraFacial … check out her comments.
BROW AND LASH TINT
Undefined eyebrows and eyelashes can fail to accentuate the natural beauty of your eyes. Tinting can add depth to the entire structure of the face for those with pale or light colored skin and very blonde brows and lashes. By matching the tint to your natural look, brow and lash tinting can create the right frame for your face without looking artificial.
Eyebrow and eyelash tinting adds the illusion of thickness and dimension by simply changing the color. Your eyes will suddenly appear more vibrant and your features will have more contrast.
CHEMICAL PEELS
Chemical peels remove damaged outer layers of skin on the face to smooth texture, reduce scarring, and remove blemishes and pre-cancerous growths to produce healthy, glowing skin. There are three types of chemical peels, ranging from mild to strong – alphahydroxy acids (AHAs), trichloroacetic acid (TCA) and phenol – and formula strengths are tailored to each patient. Peels can be combined with other procedures such as facelifts for a younger look.
MICRODERMABRASION
Microdermabrasion uses a gentle stream of tiny particles to exfoliate the outer layer of skin and produce a fresh, glowing, younger appearance with improved texture, tone and complexion. Only a small amount of skin is removed during this procedure, so all areas of the face can be effectively treated, without any risk of tissue damage. Multiple treatment sessions may be needed in order for patients to achieve the appearance they desire. This procedure is performed at the Great Neck Long Island Medical Spa.
MICROBLADING
Microblading (or eyebrow embroidery) is a relatively new, manual treatment that is great for anyone that wants to naturally enhance the appearance of their eyebrows. The results produce natural hair-like strokes, regardless of the amount of hair present. The pigments used in this method have been formulated to match your original eyebrow color, and if the eyebrows are still present, blend perfectly into them. The results can last anywhere from 1 to 2 years, depending on different factors affecting the procedure. A yearly touch up is recommended to retain the shape and saturation of pigment.
MICRONEEDLING
Microneedling, also known as collagen induction therapy, is one of the latest innovations in the health and beauty industry. This non-surgical treatment helps balance skin tone, reduce pore size, soften wrinkles, and help with all scarring. The results are noticeable within days of the procedure with minimal downtime. Micro-needling also creates superficial micro-channels that help your skincare products absorb and work more efficiently.
PRP (PLATELET RICH PLASMA) WITH MICRONEEDLING
Platelet rich plasma introduces concentrated platelets rich in bioactive proteins and growth factors which accelerate the body's healing process, stimulate cellular regeneration and accelerate tissue repair. By using our top of the line PureSpin, double spin, centrifuge we get the purest form of PRP known as "liquid gold". This plasma is used while doing the microneedling treatments and the most concentrated PRP is injected into the skin after the needling procedure for a full face rejuvenation
---