Fraxel / HydraFacial / IPL Laser
Non Surgical
Fraxel® Laser Treatment & Forever Young bbl™
Nassau County and Manhattan
Fraxel® Laser Treatment and FOREVER YOUNG BBL™ are unique, non-invasive laser therapies designed to dramatically improve skin texture and pigmentation, allowing you to once more enjoy the fresh and healthy skin of your youth.
These Treatments for Women and Men are most effective for:
Improving texture and tone 
Shrinking pore size
Erasing age spots / brown spots
Smoothing wrinkles around the eyes
Smoothing acne scars
Rejuvenating the neck, chest and hands
These resurfacing technologies treat where only a small fraction of the skin receives the laser light at any given time. The treatment delivers a series of narrow but deep microscopic laser spots to reach the innermost layers of skin and stimulate collagen growth while leaving the surrounding skin unaffected. The healthy cells in the untouched spots promote rapid healing of the entire area, resulting in faster recovery time and minimal side effects. Think of this "fractional" technique as being like restoring a painting one tiny area at a time, or altering an electronic image pixel by pixel.
Discuss with Dr. Brian D. Cohen the best treatment to achieve the results you desire. Dr. Cohen has the very latest in technology best suited to your specific needs.
HydraFacial™
Great Neck and Manhattan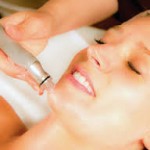 The HydraFacial™ is the only hydradermabrasion procedure that combines cleansing, exfoliation, extraction, hydration and antioxidant protection, simultaneously resulting in clearer more beautiful skin with no downtime. This treatment is great for improving the appearance of fine lines, wrinkles, congested pores, oily and acne prone skin, hyper pigmentation and brown spots.
HydraFacial™ Quick Facts:
The HydraFacial™ is a comprehensive procedure for Women, Men and Teens with all skin types – it targets:
Fine lines and wrinkles
Oily or congested skin
Sun Damage
Uneven skin tone
Dry or dehydrated skin
Rosacea
Blemishes
Instant results will leave you looking radiant and refined – There is no downtime, so it is perfect right before a big night out or special occasion.
Arielle Sedrane of Spa Week Media Group visited Dr. Brian D. Cohen's Medical Spa and tried out his popular HydraFacial … check out her comments.